A Painted Wall Sundial by John Carmichael
Tucson Arizona USA, July 2006
website by John Carmichael (author) and Dave Bell (webmaster)
This page was last updated 18 December, 2007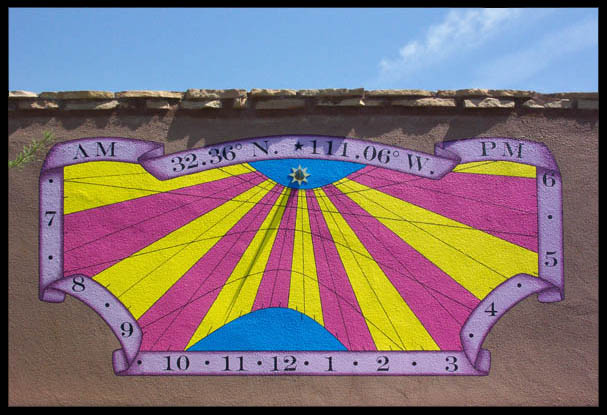 Photos:
Description:
This is my first painted wall sundial-finished in June, 2006. It is above a porch door at a private home in Tucson Arizona USA. It features a solid brass gold-plated conical gnomon on a gold-plated star. I designed it using Zonwvlak2000, Delta Cad, and Photoshop Elements. The wall surface is rough textured stucco and the paint I used is elastomeric acrylic house paint.
Painting fine details by hand on textured stucco is a real pain and very difficult. I could not use painters tape because of the bumps, so everything had to be painted free hand. I see now why the sundial artists in Europe often replaster a wall with a smooth texture before painting! But the owners did not want a smooth surface because rough texture is artistically pleasing. This does affect the sharpness of the shadow a tiny bit, but it's not too bad.
The sundial measures 44 x 92 inches (1.12m x 2.33m), declines 4.53 degrees east of south. We decided to custom-make a wide brass cone so that the shadow is wide, like the hands of a clock. The cone is 2 inches wide at the base and about 4" tall and is screwed to an anchor bolt on the wall on top of a gold-plated brass star.
I transferred the Delta Cad drawing to the wall like this:
I made a full size drawing of the sundial on Mylar plastic.
Then, using a leather awl (like a short ice pick), I punched holes into the lines on the drawing.
Then I taped the drawing to the wall, and using Sharpee marker pens, I made dots on the wall through the holes in the drawing.
Then I removed the drawing and connected the dots on the wall.
I painted the colors first, then painted the lines and numerals on top in layers.
Related Website Link:
A Photo Collection of Beautiful Painted Wall Sundials
Contact:
John L. Carmichael
Sundial Sculptures
925 E. Foothills Dr.
Tucson AZ 85718-4716
USA
Tel: 520-6961709
Email: John Carmichael (author)
Email : Dave Bell (webmaster)
My Websites:
(business) Sundial Sculptures: http://www.sundialsculptures.com
(educational) Chinook Trail Sundial: http://advanceassociates.com/Sundials/COSprings/
(educational) Earth & Sky Equatorial Sundial: http://advanceassociates.com/Sundials/Earth-Sky_Dial/
(educational) My Painted Wall Sundial: http://www.advanceassociates.com/WallDial
(educational) Painted Wall Sundials: http://advanceassociates.com/WallDial/PWS_Home.html
(educational) Stained Glass Sundials: http://www.stainedglasssundials.com
(educational) Sundial Cupolas, Towers & Chimneys: http://StainedGlassSundials.com/CupolaSundial/index.html
---
Created on ... June 29, 2006
Modified on ... March 31, 2007